Podcast: Play in new window | Download | Embed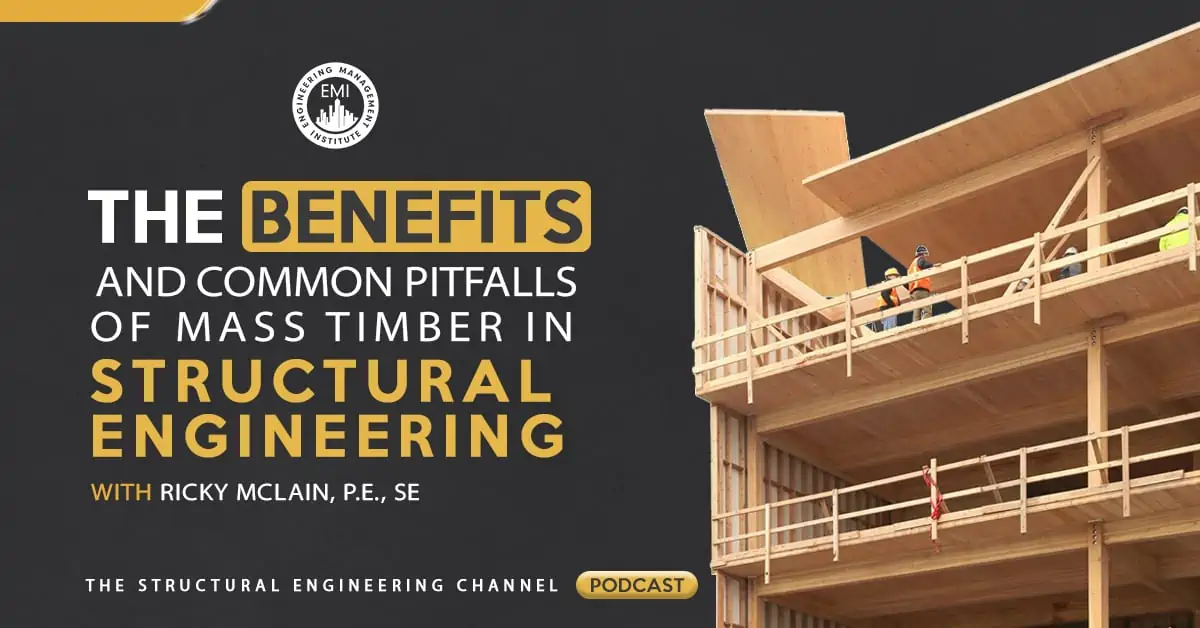 In this episode, we talk to Ricky McLain, P.E., SE, who is the Senior Technical Director at Tall Wood, WoodWorks about mass timber in structural engineering — what it is, some of the common pitfalls for mass timber projects, and how structural engineers can play a significant role in setting a mass timber project up for success.
Engineering Quotes:

Here Are Some of the Questions We Ask Ricky in This Episode:
What is mass timber?
Why is mass timber suddenly so relevant to structures in the United States now?
How can a structural engineer promote the use of mass timber to their clients?
What are some of common pitfalls in a mass timber project?
How can engineers determine what products each manufacturer is producing?
How can structural engineers play a significant role in setting a mass timber project up for success?
In what ways can an engineer use mass timber as a differentiating opportunity for their business development strategy?
Here Are Some of the Key Points Discussed About Mass Timber in Structural Engineering:
Mass timber is an umbrella term that encompasses a large number of products, e.g., CLT (cross-laminated timber), and is similar to heavy timber construction. Most of the products use a small dimensional lumber combined together to create a larger cross-section.
Mass timber was first introduced to the marketplace in terms of building construction about 30 years ago in Europe, and has been used extensively internationally for the past two to three decades. It has only really been used more frequently in the U.S. in the last six to seven years.
As the global population, including the U.S. population, continues to grow, there is a significant shift to more urban occupancy. Building design professionals have started to realize that they play an especially important role in the environmental responsibility and sustainability of the buildings. Because a significant focus is being placed on the embodied carbon of the materials being used in a structure, and because structural elements in a building make up a huge part of that piece of a carbon pie, there are more people starting to look at mass timber as a way to potentially reduce the carbon impact of construction materials. These factors coming together is what started the movement of mass timber.
When structural engineers want to promote the use of mass timber to their clients, they need to first understand the material and why it could benefit a specific project.
Mass timber is not a commodity product, as each manufacturer may be using a slightly different species/grade/thickness of wood. Structural engineers must work together with their manufacturers and really understand their manufacturers' capabilities and supply chain.
The list of mass timber manufacturers is not very long, so it is worth reaching out to each one of them to get to know them and their products.
A mass timber project from start of design to finish of construction has the possibility of being a quicker process when working with a manufacturer earlier on throughout your design process.
Structural engineers play a significant role in setting a mass timber project up for success. They should get some experience with and understanding of different construction types and fire-resistant readings, and understand how the timber elements can meet them.
Structural engineers can use mass timber as a differentiator in their business development strategy because at this point, it is still relatively new. Depending on which city you are in, you might be doing the first mass timber project there.
More Details in This Episode…
About Ricky McLain, P.E., SE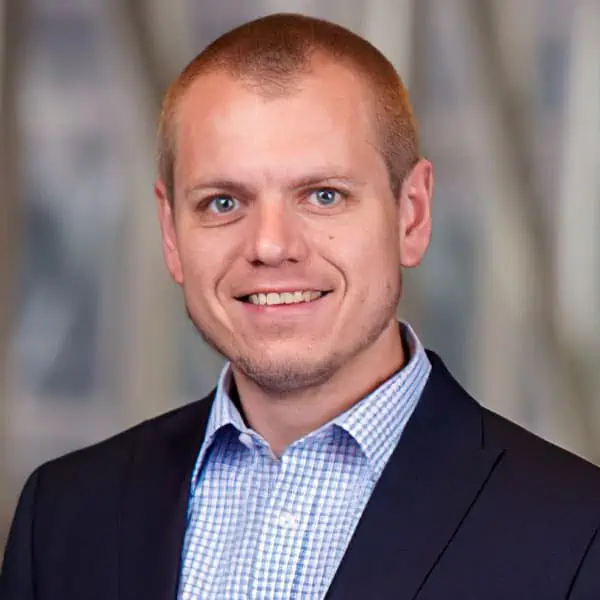 Ricky is WoodWorks' in-house expert on tall wood buildings, providing analysis and guidance on architectural, fire, and life safety, and structural design topics related to tall mass timber projects. He supports the AEC community both directly and collaboratively with WoodWorks Regional Directors, and guides the development of education and resources related to tall wood buildings in the U.S. Prior to this emphasis, Ricky's role encompassed all building types and wood systems. He also has extensive experience in lead engineer roles related to structural design, project management, and construction administration. Ricky is a very active member of numerous committees and councils related to building design, and is the Executive Director of the Structural Engineers Association of Vermont.
Sources/References:
WoodWorks
Connect with Ricky McLain on LinkedIn
2018 National Design Specification — American Wood Council
This Episode Is Brought to You by the Following Sponsors:
Aero Aggregates of North America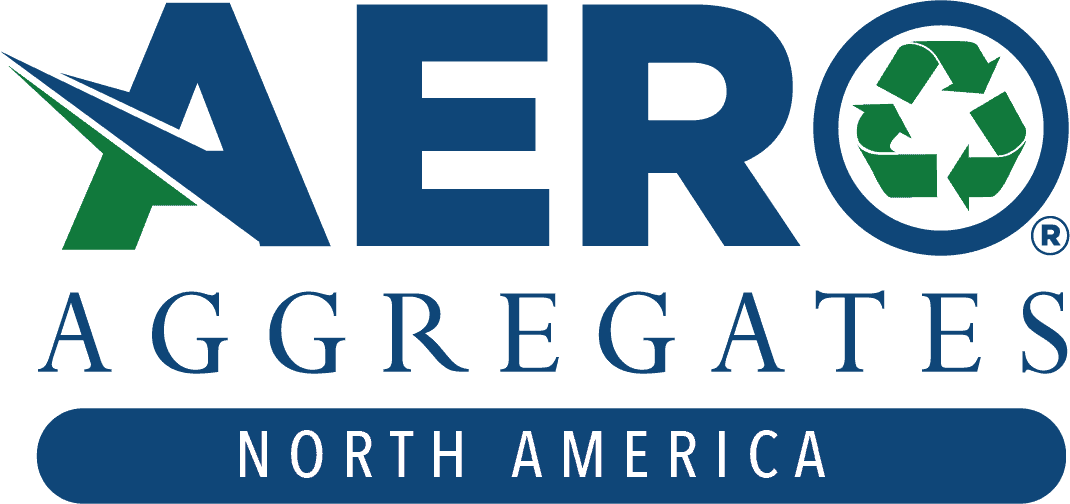 Aero Aggregates is the first vertically integrated manufacturer of ultra-lightweight foamed glass aggregate in North America made from 100% recycled glass. This sustainable aggregate has bulk densities that are 80% to 90% lower than traditional fill, is free-draining and non-reactive, and has a high friction angle. If your project site is challenged by resiliency concerns, raising grades over soft soils, sensitive utilities, or structures, or the need to reduce lateral loads, foamed glass aggregate can often accelerate construction, reduce project costs, and offer green credits for LEED and ENVISION programs. Visit wwwaeroaggregates.com to learn about this unique construction material.
SkyCiv

SkyCiv offers a range of powerful, easy-to-use structural analysis and design software that is 100% in the cloud. A core focus of SkyCiv is their structural analysis and design API, which lets engineers access all of SkyCiv's technology directly. Build your own tools and software around the SkyCiv functions to design faster and easier. Being entirely in the cloud, the SkyCiv API can run from any device, meaning no installation or licensing issues. The SkyCiv API lets you directly access features, such as model generation, structural analysis, member design, concrete design, wind load calculations, and much more, from any of your own programs or tools. With just a few lines of code, you can easily automate parts of your design workflow. Are you an innovative engineer looking to improve your team's efficiency or automate repetitive design tasks? If so, the SkyCiv API can give your team the tools. Get started today at www.skyciv.com/emi/.
Dlubal Software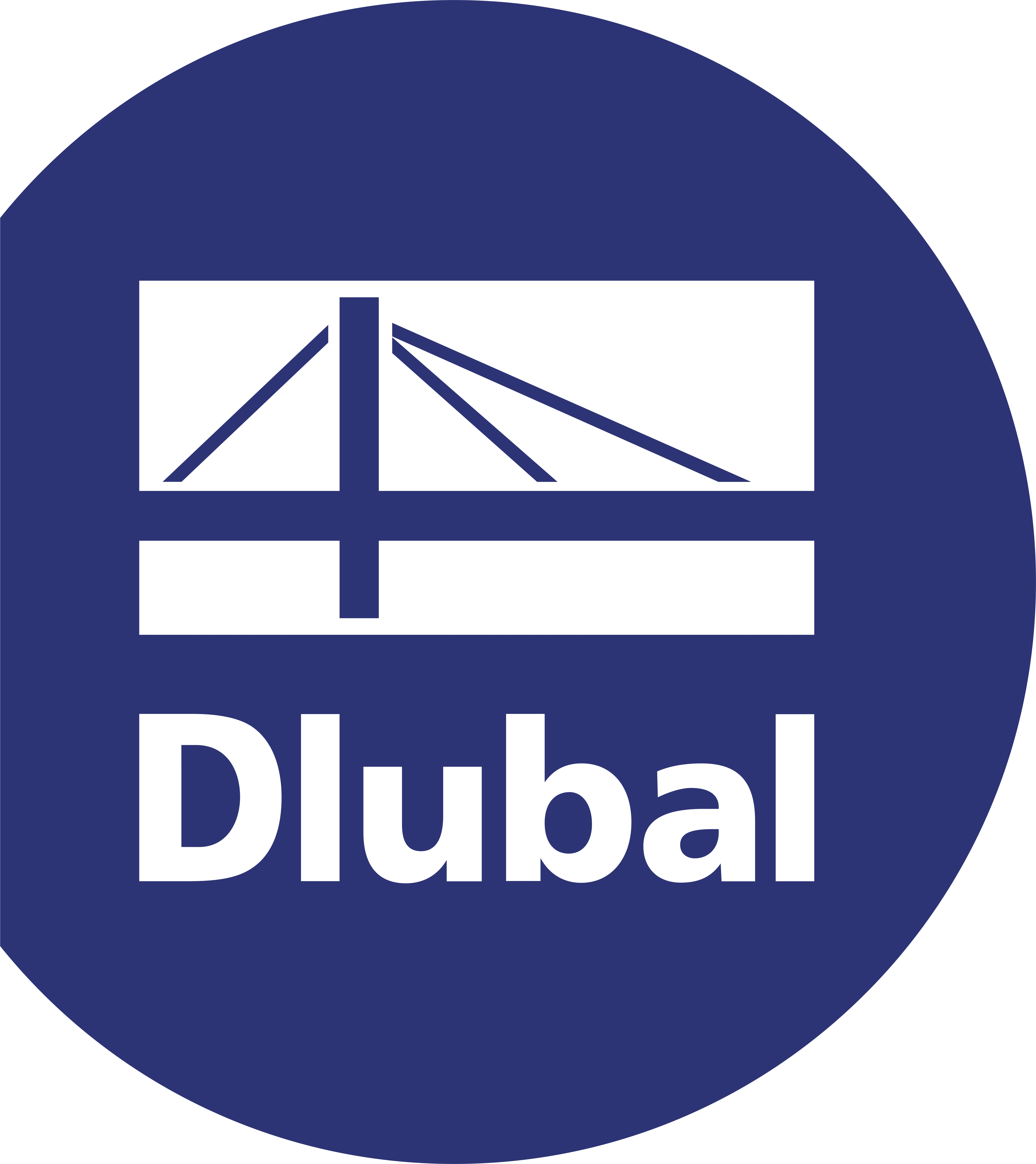 Dlubal Software offers the most powerful yet user-friendly structural analysis and design software for today's structural engineer. With the general FEA program RFEM, venture beyond basic box-type buildings and into unique multimaterial structures instead. The nonlinear FEA program is based on a modular concept so you can create a tailored and affordable package specific to your design projects. The add-on modules include the American, Canadian, and other international design standards for not only steel and concrete, but also aluminium, wood, cross-laminated timber, glass, tensile fabric, and cable form-finding, dynamics, stability, and much more. The direct interfaces with BIM programs, including Revit, Tekla Structures, and AutoCAD, allow for the time-saving bidirectional exchange of information with RFEM. Also, experience Dlubal's recently released standalone program RWIND Simulation, which simulates wind flow on all structure types and geometries within a numerical wind tunnel. Integrate wind pressures back to the RFEM structure for a complete structural design. For more information, visit www.dlubal.com.
Please leave your comments or questions in the section below on the benefits and common pitfalls of mass timber in structural engineering.
To your success,
Matthew Picardal P.E. & Alexis Clark, P.E., M.ASCE
Hosts of The Structural Engineering Podcast