Podcast: Play in new window | Download | Embed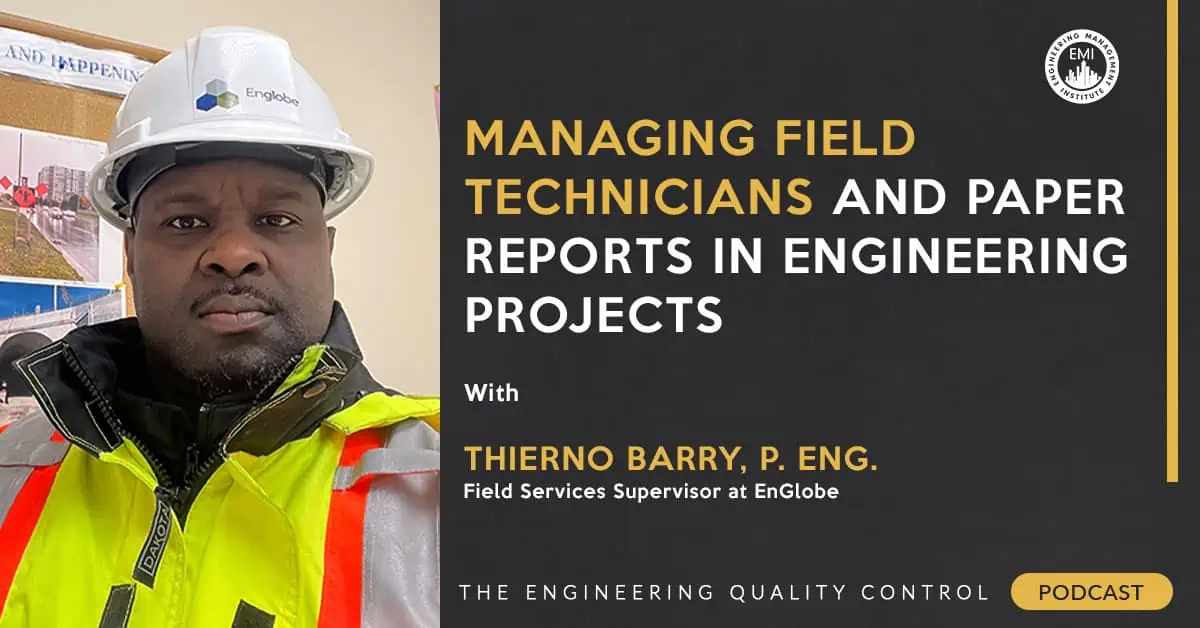 In this episode, I talk with Thierno Barry, P. Eng., a professional engineer and field services supervisor at Englobe, and a renowned leader in engineering geosciences, environmental management, and quality management about managing field technicians and paper reports in engineering projects. We also discuss the importance of quality control and assurance in concrete testing, challenges with rebar inspections, and the future of technology adoption in the field beyond manual data entry.
***You can view the video version of this episode here.***
Engineering Quotes:

Here Are Some of the Questions We Ask Thierno:
Why are quality control and assurance crucial in concrete testing, and which specific tests are typically carried out?
As a leader in a testing role, what do you consider to be crucial aspects of the testing processes and documentation?
What advice or opinions do you have on ensuring that construction materials are tested, meet standards and specifications, and have proper documentation for quality assurance?
Is the inspector training conducted in-house or is off-site training provided by a local authority? And is it necessary for inspectors to obtain a qualification or card upon completion of the training?
If your company provides in-house training to technicians who previously worked at another company, have you ever encountered conflicts in the way the previous company trained them compared to your company's methods? And have these conflicts caused issues when these technicians work in the field?
What are some of the challenges that may arise during asphalt testing?
As a manager, are you responsible for selecting the technicians who go to the field and assigning them to specific projects?
What are some of the challenges associated with rebar inspections, particularly concerning any certifications that may be required for these inspections?
What challenges have you encountered with in-house training programs and certification programs, and how do you maintain the quality and reputation of your company's work while overcoming these challenges?
Where do you see the industry heading in terms of technology adoption for field work, beyond the use of paper reports and manual data entry?
Here Are Some Key Points Discussed in This Episode About Managing Field Technicians and Paper Reports in Engineering Projects:
[Read more…] about TEQC 029: Managing Field Technicians and Paper Reports in Engineering Projects